by Courtney Hughes, Personal Trainer, Nutrition Coach at American Sled Dogs Virginia Beach, VA
Choosing a protein for fitness that's right for you can be tricky with so many brands on the market. You might feel overwhelmed with options.
What's the best protein for fitness?
To help you make the best decision for your body and level of fitness, here is a little break down on the types of proteins, the benefits, and examples for purchase.
Whey
Whey is a by-product of cheese making. Derived from milk, whey is considered to be the fastest-digesting "complete" protein for fitness, which means that it contains all the essential building blocks of muscle (amino acids), including high amounts of the all-important group of branched-chain amino acids. Whey concentrate is the most common form of whey and a more economical choice. It has a full spectrum of amino acids to help with muscle recovery and growth. BCAAs become depleted after exercise and are needed for the maintenance of muscle tissue. That's why it is so often recommended to consume a protein shake that includes whey within 30 minutes to an hour after training. You need to meet that anabolic window for optimum gains!
Example: Whey Shake
Whey Isolate
Whey isolate form of protein has had more non-protein components partially removed, so it's higher in protein than the concentrate. An isolate has only about one-tenth of a gram of lactose per tablespoon. That amount of lactose is rarely a problem for someone who is lactose intolerant. Typically an isolate is believed to have less fat, cholesterol, lactose, carbohydrates and calories than most other proteins on the market. It's a great all-around lean protein for fitness!
Example: Metrx Isolate or IsoPure
Casein
Casein is a slower-digesting protein that builds muscle while you sleep. Casein produces a stable elevation of amino acids that lasts for up to seven hours. Casein does not have an amino acid spike like whey protein does. This complete milk protein provides a prolonged release of amino acids over time, which is important for keeping you full between meals, plus it reduces the muscle damage that can typically occur 48 hours postworkout. Casein may be beneficial before bed because the slow absorption will supply your body with protein through the night when it enters a catabolic state (breakdown of protein tissue for energy). Research shows that taking casein before, during, and after exercise—or anytime, really–effectively supports muscle protein synthesis and also boosts endurance and strength gains.
Egg
Egg is an animal-based protein source with no dairy. Egg protein powder is typically made from dehydrated egg whites that are processed into a fine powder. It's pasteurized to prevent salmonella and inactivate their Avidin protein. Egg whites contain a ton of aminos. Among those are the branched-chain amino acids: leucine, isoleucine and valine. These aminos—particularly leucine—are critical for driving muscle protein synthesis and, therefore, muscle growth. Egg protein is considered the most nearly perfect source of protein because its amino acid pattern most closely matches that needed for human growth. Egg-white protein is naturally devoid of carbs and fat. That means it bypasses a lot of the processing that other protein powders go through. Egg-white protein is digested at a moderate rate, meaning it falls somewhere between very-fast-digesting whey and very-slow-digesting casein. This is likely why egg whites have been shown in clinical trials not only to boost protein synthesis but also to prevent muscle protein breakdown. Egg-white protein doesn't contain lactose, so it's great for those people who are lactose intolerant.
Example: ON Egg or Dymatize Egg
Beef
Beef is an animal-based protein source with the fat and cholesterol removed. What remains is amino acids, including the branched-chain amino acids (leucine, isoleucine, and valine). Beef protein isolate has an amino acid profile comparable to standard whey protein powders. Beef protein for fitness is an ideal alternative for those who must avoid lactose because of allergies or intolerance. Beef protein isolate can be combined with other animal-based protein powders, such as egg, to form unique blends that are specific to your dietary goals and needs. Look for hydrolyzed beef protein isolate. This type has been hydrolyzed or put through the process of hydrolysis. The result is that longer protein chains are broken into smaller peptide fragments; in essence, the protein has been predigested, which means faster digestion and absorption.
Example: Carnivore or Paleo Protein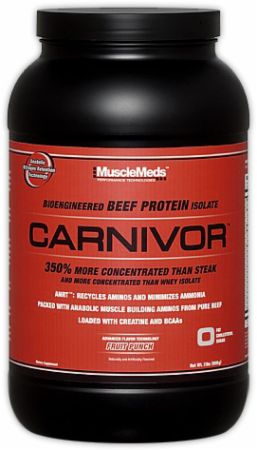 Brown Rice
Brown rice protein is easy on the stomach. As with all plant proteins (quinoa being the exception), rice protein is incomplete. It lacks one of the essential amino acids, lysine, which helps manage triglycerides (a form of body fat) and is necessary for hormone production and bone growth. You can solve this problem by pairing brown rice protein powder with milk or almond milk. Brown rice is great for anyone with lactose issues or any kind of stomach sensitivity especially ones due to gluten.
Example: NOW Raw Fusion Vega One Vegan Pro
Soy
Soy is a popular vegetarian protein source and good for anyone with lactose issues. Although sports research shows that soy results in inferior strength gains when compared to whey, the differences are minimal for a healthy woman.
Example: ON Soy or NOW
Protein Blends
When in doubt, blend it out! There are several varieties of protein blends that will give you an all-around balance of protein and nutrients. Protein blends provide a time-release effect when combining proteins that digest at a faster or slower rate. Whey protein digests quickly, is high quality, and is ideal for building muscle and immunity. Casein protein is slow digesting and delivers amino acids to your muscles over a longer period of time, helping prevent muscle breakdown. Egg white protein (egg albumen) is medium digesting and has an excellent amino acid profile.
Example: Quest Nutrition, Perfect Pro
Find the best protein for fitness that's right for you!
Another great tip for finding the protein that's right for you is this: Don't be afraid to ask questions about the protein you may purchase. You can also ask for a sample as many companies offer sample packets which is a great option to try it before you buy it. Protein doesn't always have to be a big national brand for it to be a great protein for fitness. When selecting one, let the ingredients speak for themselves!!! You want QUALITY with your protein just like you would with your groceries. I hope this was helpful, and if you have any questions just email me and ask!
Sources
Encyclopedia of Sports & Fitness Nutrition by Liz Applegate · Crown Publishing Group · Ebook · 432 pages
www.bodybuilding.com